It's been happening here. I don;t know if I ever blogged about it, but my partner Jason was laid off at the beginning of April after 12 years with the company. We're both convinced this will be a good thing, that getting a severance package will cover the time period it takes for him to find a job that is far more fulfilling. But that doesn't mean throwing two people with depression, one in a new job, one without a job for the first time in his life into a house with a crumbling foundation, with two kids, three dogs, a cat, a terrarium and two aquariums will be easy.
At the beginning of the year inspired by Michelle Pendergrass I picked a word that I wanted to try to actualize through my actions this year. I picked progress.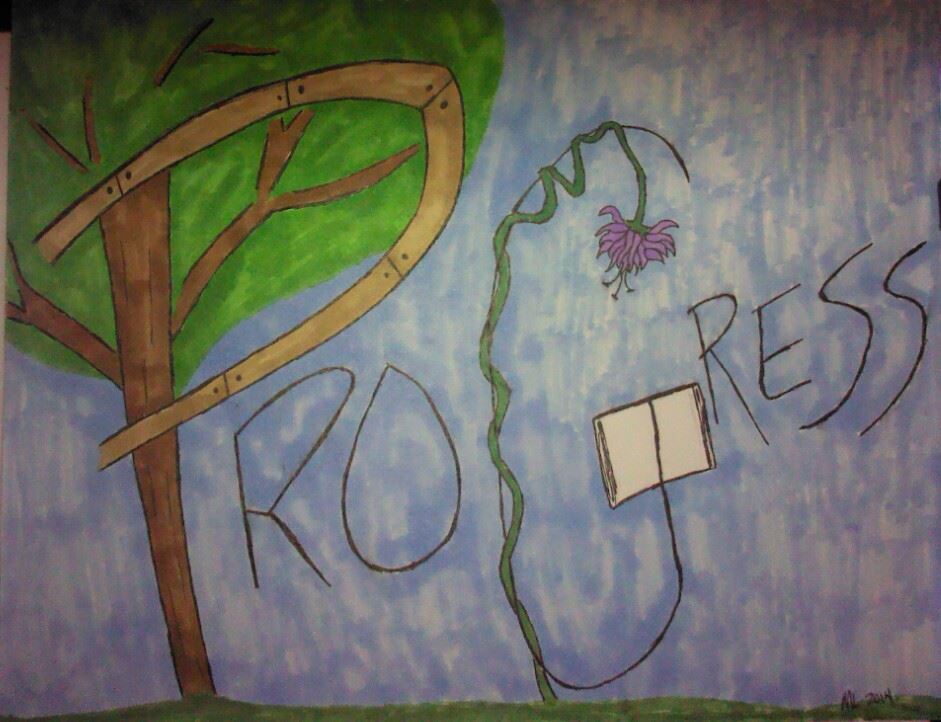 I even did a cute little art project with it. Progress on every level, repairing and bettering my home, my garden, more books to read and write and progress on myself.
Progress is hard. It's boring. It's not something you can always show people. "Hey, look at this major mess of a kitchen with a giant hole in the floor. For the first time in three months that sink pulled away from the wall is functioning correctly with both hot and cold water! Sure it's a complete mess, and hey big hole, and now it's stopped up and not draining right. And I think that funny smell is… But hey, progress, it's working!"
It's really hard being proud of that kind of progress. It's really hard to get on Twitter and brag about those 500 words I got in when I remember days of 3-4k. It's even hard to brag about how much I love my new job when I come home after work, errands, kid and pet care and food prep and collapse into an attempt at sleep.
I'm not willing to say I'm in a bad spot. I'm not. There is lots of good going on. Lots of opportunity, but it needs an amazing amount of strength to be ready to take those opportunities and make the most of them.
So I'm boring. A motionless chrysalis working on brewing, maybe a moth, maybe a butterfly. Maybe something else. This is the part most people don't see. But don't forget that it's there.  To the handful of my friends out there who have said they are jealous of me, or envious of me, or want my life. There are a lot of parts where I want my life too. But I'm still working on it.